International Women's Day is a time to reflect on the achievements of women and girls whose extraordinary efforts have helped effect change and transform their communities.
This year, UNFPA Arab States Regional Office (ASRO) is celebrating 9 inspiring women from the Arab region, five of whom are featured below. From Somalia to Yemen and Iraq, most of these women live in war-torn or crisis-ridden places where it can be particularly dangerous to be a woman. However, they have all rejected preconceived ideas about the secondary roles of women pressed for progress on the protection and empowerment of vulnerable and marginalized women and girls in their communities.
Wafa Ilwan: women cannot be left to suffer alone
30-year old Ilwan was diagnosed with breast cancer and suffered for three years, but used her painful experience to support many other women diagnosed with breast cancer in her own village, Sinjil, in the West Bank in Palestine.
"Women cannot suffer alone" Wafa said, "one easy step of breast self- examination can save your life." Wafa considers herself lucky to find love and care from her husband and family, and is returning it by encouraging others to do the same.    
Wafa is now a facilitator who supports other women, encouraging others to do breast self-examination, and informing those diagnosed with breast cancer about the challenges they will face  and how to be able to surmount them. Her new role came as a result of a generous grant from Japan and the cooperation of the Palestinian Medical Relief Society, UNFPA's implementing partner.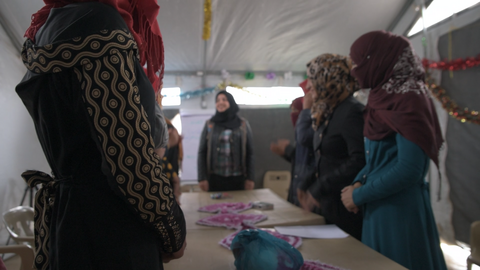 Haneen Ali: "Learning made me feel strong, even inside a tent"
Haneen from Mosul, Iraq was 22 years old when the conflict forced her and her family to flee their home. Alongside her parents, she walked through land dotted with mines until they reached the Debaga camp for internally displaced people.
"The journey was long and tiring. I had to leave my life behind to start a new one at a camp for refugees and displaced people. I knew I had to focus on my education if I wanted to overcome this unexpected turn in my life. I couldn't just give up," she says.
Haneen continued her studies from home; she kept reading books and educating herself. "Learning made me feel strong, even though I lived in a tent. I felt that I could do much more than just sit around," she explains.
A regular visitor of the UNFPA-supported women's center in the camp, Haneen applied to be a volunteer sewing trainer and being the talented determined girl she is; she was immediately accepted for this responsibility.
 "It is not about sewing to be honest; these women attend the sessions I give to look for a friend, for an escape or for a place where they can forget their miseries and feel useful," she says referring to the hundreds of women who often come to the centre to benefit from its various recreational activities.
 "These women gather as friends do in a neighborhood, over sewing pieces of clothing. Some, however, come with deeper pains; for them sewing this piece of cloth feels like knitting their own lives together to heal their wounds," she continues.
In these encounters, women discuss different issues including sexual harassment, gender-based violence, domestic violence and other forms of abuse that they might face. They can receive psychosocial support services in addition to the recreational activities that these women centres offer women and girls.
Haneen's loving nature and willingness to help and listen to others made her one of the most trusted faces in the centre. Today, three years into her displacement, Haneen touches the lives of hundreds of young women in the camp who, like herself, are internally displaced and far away from their homes.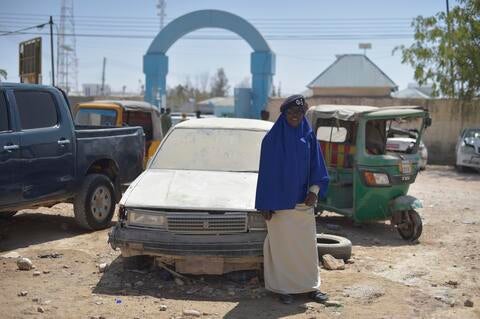 Kis Shamis Bile: first female police officer in a country ranked the worst for women
Kis, 35, is the only female police officer in charge of all internally displaced persons (IDPs) in Nugaal region in Puntland. She is also the Deputy Director of Community Police for Puntland.
Somalia has been ranked as one of the worst countries to be a woman in. Somalia's government, even at the state level, has yet to recover from decades of war. Many Somali women do not bother to report crimes because they lack faith that the system can, or wants to help them get justice.
In August 1998, when she was only fifteen years old she joined the police as the first female police officer and served in various assignments with different police departments; piracy, drug control, community police and in the department for criminal investigation.
In August 2015 she joined the Armo Police Training Academy as the deputy head of east police station, where she supervised the training of 32 male police officers. She quickly gained the respect of all her peers and even received an award for being a great leader.
Kis also works at the UNFPA-supported women police desk, where survivors of gender-based violence (GBV) report incidents they faced. She recently played a key role in a case of gang rape where six men raped a young girl. Kis conducted thorough investigations that led to the identification of the perpetrators who are now all in custody.  The case is in trial stage waiting for justice to be served.
Despite strong traditional customary law, officer Kis pushed the application of a recently approved sexual offenses law. A wife and a mother of three, Kis is a great advocate for women's issues, especially focused on fighting impunity related to sexual and gender-based violence.
Aicha Barki: Supporting education and literacy to empower women and girls
Aicha Barki, founder and president of the Algerian Literacy Association IQRAA, began her career as a teacher then a school master, before deciding to focus exclusively on humanitarian action and women's rights. Through adult literacy centers that her association opened in many cities in Algeria, she ensured that women received literacy and life skills. With the support of UNFPA, IQRAA association developed literacy modules that included awareness on sexual and reproductive health and rights, and on the prevention of gender-based violence.
During her journey of promoting women's empowerment and rights though adult literacy, Barki was elected National Secretary of the Algerian Women's Union in 1986, and joined the National Observatory for Human Rights in 1993, and has been its been Vice-President since 1997. She is a laureate the J. Roby KYDD Award from the International Council for Adult Education and received the 1998 Valencia National Prize for Freedom.  Barki has also been a Senator since 2013 and continues her program of adult literacy country-wide.
Dr. Hiba Al-Mallah: Fighting misconceptions among Syrian refugees in Jordan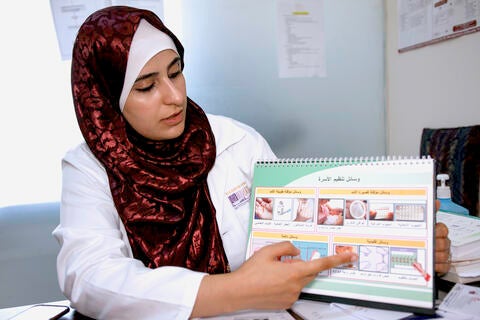 Family planning is central to gender equality and women's empowerment, and it is a key factor in reducing poverty. It allows women to make informed decisions about whether and how many children they wish to have. Yet millions of women and girls around the world still don't use contraceptives due to ill-founded concerns about their side effects.
Dr. Hiba Al-Mallah works at a UNFPA-supported reproductive health clinic run by the Institute for Family Health (IFH) in Amman, Jordan. She provides family planning counselling (advice and information about contraceptives, birth spacing and maternal health) to Jordanians and to Syrian refugees who come to the clinic. 
"In addition to concerns about infertility, some of them worry that contraception may cause a lot of harmful side effects," says Dr. Al-Mallah. She says misconceptions about contraceptives are common among Syrian refugees, who make up the majority of her patients. 
There are also misconceptions about how contraceptives are administered and how they work inside the body. "Some of my female patients believe that the intra-uterine device is so big that it will damage and scratch the uterus," she adds. 
When talking to patients, Dr. Al-Mallah makes sure she explains, and even shows, each of the contraceptive options – a condom out of the wrapper, an intra-uterine device (IUD) in the palm of her hand, an oral contraceptive pill in between her fingers, a birth control implant held against her arm, and so on. 
"When they see the intrauterine device and how small it is, they are surprised and say, 'Oh, that's it?'" said Dr. Al-Mallah. "It eases their concerns."