Damascus, Syria – For the first time in three years, UNFPA has been able to send aid to the city of Deir Ez-Zor, where tens of thousands of people are in urgent need. Relief was provided through a humanitarian convoy organized by the Syrian Arab Red Crescent.
Deir Ez-Zor is the largest city in eastern Syria, and it has had been besieged by the Islamic State of Iraq and the Levant (ISIL, also known as ISIS or Da'esh) since 2014. It was only last week that the siege was broken and humanitarian access was restored.
On 12 September, the convoy set out to meet the immediate humanitarian needs of the city's residents, carrying relief from UNFPA, the World Food Programme and the UN Refugee Agency. The trucks passed through harrowing conditions to reach Deir Ez-Zor on 14 September.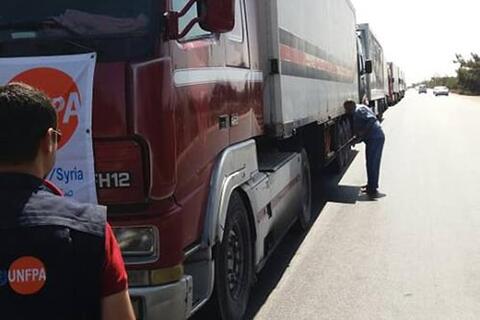 "The convoy travelled the relatively short distance from Homs in 22 hours, crossing unpaved roads and coming in close proximity with the ongoing military operations," said Massimo Diana, UNFPA's representative in Syria. "We salute the courage and dedication of the Syrian Arab Red Crescent volunteers."
The UNFPA-provided supplies include 20,000 sanitary napkins and 4,000 dignity kits for women. The dignity kits contain soap, toothpaste, underwear, sanitary napkins and other hygiene supplies.
Under ISIL, residents of the city – women and girls in particular – lacked access to basic reproductive health services and supplies.
"Distributing hygiene kits and sanitary napkins directly impacts the dignity, health mobility and security of women and girls," Mr. Diana said.
One thousand dignity kits for men, containing a variety of hygiene materials, were also provided.
93,500 people in need
An estimated 93,500 people in the city require urgent assistance, according to a statement released today by Ali Al-Za'tari, the UN Resident/Humanitarian Coordinator for Syria. "After being besieged by ISIL for three years, the civilian population faced deteriorating conditions while being deprived of their rights to humanitarian aid and freedom of movement," said Mr. Al-Za'tari.
"The besieged areas of Deir-ez-Zor city were previously only reachable by UN airdrops," the statement noted.
The Syrian Arab Red Crescent is currently distributing the supplies from UNFPA and its partners, as well as items received from earlier airdrops.
Further aid is being prepared, including convoys to provide medical and health supplies. UNFPA is also working with partners to reactivate its support in clinics and health facilities.
"UNFPA has already identified partners in Deir Ez-Zor and we are working with them to identify the priority needs of the population, focused on women and girls, to ensure we are able to swiftly provide the necessary assistance in the days to come," said Mr. Diana.
Highly volatile
The situation remains highly volatile.
Recent fighting and military operations in Deir Ez-Zor Governorate have put residents in the line of fire, reportedly resulting in civilian deaths and damage to civilian infrastructure.
"The violence around Deir Ez-Zor and in Raqqa is still raging, causing many to flee to escape the violence while many are caught in the middle," said Mr. Diana. "As it is demonstrated by this convoy, when access is provided, the UN can deliver and alleviate the suffering of all people in need across the country. Throughout Syria, more than 13.5 million people are in need, including an estimated half a million pregnant women."
Outside the city, UNFPA is continuing to provide mobile reproductive health services and hygiene supplies to people displaced from Deir Ez-Zor and Raqqa and elsewhere in the country. UNFPA's activities in Syria are supported by Canada, the European Commission and other donors.
– Kinda Katranji