After 11 years in crisis, Syrians throughout the region continue to suffer 
"When I speak to loved ones in Syria and nearby countries, the common feeling I sense is despair and betrayal by the world," explains Maram, a Syrian refugee who receives gender-based violence support at a UNFPA-supported Women and Girls Safe Space in the Kurdistan Region of Iraq.
Like many other Syrians — particularly women and girls — living throughout the Arab region and beyond, Maram feels left alone as she faces her fate. When the crisis passed the decade mark in 2021, the world was already a year into the COVID-19 pandemic, and an array of other humanitarian situations were emerging.  Among the millions of Syrians who have spent the last 11 years surviving conflict, displacement, economic collapse, and mounting risks to their safety, many feel their calls for help have increasingly been drowned out.
 "The situation in Syria is worse than it has been in years," explains  UNFPA Arab States Regional Director, Dr. Luay Shabaneh. "The  impacts of the deepening economic crises in the region, the COVID-19 pandemic, ongoing and new hostilities, mass displacement, and violations of human rights, have all converged to put women and girls throughout the region at greater risk. Meanwhile, for those who need it, access to life-saving sexual and reproductive health and protection services has become even more difficult." 
The economic crisis impacting Lebanon and the continuing devaluation of the Turkish Lira have also had a profound impact on the lives of Syrians, including those living in north-western regions, where the Lira is the de facto currency. There are also growing concerns that the ongoing crisis in Ukraine will further contribute to the economic pressures facing communities throughout the region. 
A darker reality for women and girls
In 2022, around 14.6 million people are estimated to be in need throughout Syria, including 3.7 million women and girls of reproductive age. Meanwhile 7.1 million refugees, asylum seekers, or stateless people require humanitarian assistance region-wide, including an estimated half a million pregnant  women and adolescent girls who urgently need access to health care.
The ongoing conflict has caused tremendous stress, anxiety and suffering, which has spilled over into private life.  Women and girls tell UNFPA that gender-based violence has become so widespread and unchecked that many feel it has become normalised.
"Violence against women and girls has become so common after the crisis," explains Shaza, an adolescent girl from Qamishli. "Many women in my family are struggling and cannot find the right support. I see more women being beaten by men in their families, and sometimes in public."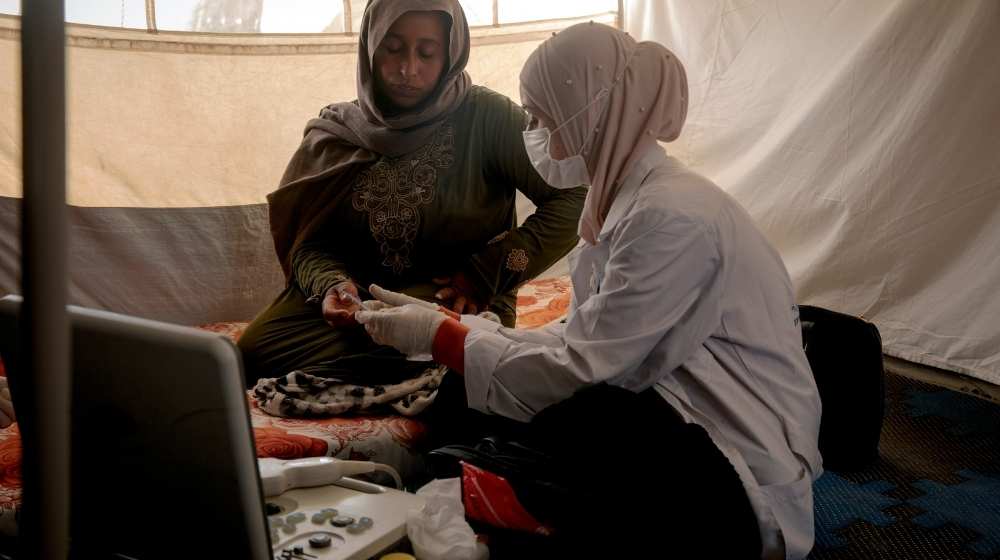 Despite the enormous challenges levelled against them, Syrians throughout the region refuse to give up. People of different ages and backgrounds continue to demonstrate remarkable resilience and determination. Many rise above their challenges to provide better prospects and opportunities for their children and loved ones, while others defy circumstances to become artists, activists, innovators and influential voices in their communities.
"I want to continue working to support other girls," explains Maya, a Syrian refugee living in Jordan. "My hope is to launch a project to help them realise that they have power and purpose; to help them find their place in the fear and confusion and to believe in their ability to create a better future for their communities."[1] 
UNFPA continues to show up
Over the past five years, UNFPA has scaled up its regional response to the crisis, doubling the number of people reached since its onset in 2011. In January 2022 alone, UNFPA delivered sexual and reproductive health services to more than 131,000 people and reached more than 63,000 through programmes to prevent and respond to gender-based violence.
Throughout the region, UNFPA is supporting 79 Women and Girls Safe Spaces, 15 youth centres, 26 emergency obstetric care facilities, 119 primary healthcare centres, and 94 mobile clinics.
UNFPA and its partners remain committed to providing life-saving services to women and girls in Syria and in camps and host communities throughout the region. Providing Syrian communities with the services and support they need in 2022 requires a concerted and committed effort by the international community. UNFPA will continue to amplify the voices of women and girls affected by this crisis, and coordinate with partners as we strive to leave no one behind.
###