Interview with Lina Mousa, Representative of UNFPA Sudan
What programs are you engaged in to end fistula?

We at UNFPA in Sudan approach fistula with three goals in mind: prevention, treatment, and rehabilitation of fistula cases. We use community leaders and the media to explain the devastating effects of child marriage and of  Females Genital Mutilation (FGM) on a young girl's body, including making her an easy case for fistula. We explain why it makes a huge difference to have access to quality  midwifery services and not just traditional unskilled midwives.  To do all this we need the government's commitment to help prevent fistula primarily by spreading awareness about its causes. Then in order to treat fistula cases, we need to be able to detect it, through utilization of community midwives to detect the cases from within the community and refer them to specialized centers for confirmation and then treatment. In regards to treatment of cases, UNFPA is supporting routine treatment services throughout the year at a national specialized fistula center in Khartoum and also through campaigns being held throughout the year with pre and post-treatment counseling. The kind of support UNFPA gives  focuses on the rehabilitation and equipping of fistula centers at both national and states levels; training  of doctors and other medical personnel; and the procurement of medical supplies including medicine.
Last but not least, an intrinsic part of UNFPA's support is the rehabilitation and reintegration of survivors of fistula into their own communities, since most had been ostracized because of their condition. UNFPA encourages their integration by providing  counseling, life - skills training, and economic support.
In the last three years, UNFPA in Sudan managed to rehabilitate and equip four fistula centres, including the national centre in Khartoum and treated nearly 500 cases from different states.
In addition, UNFPA worked closely with the Federal Ministry of Health to develop, adopt and monitor a national strategy and a plan to end fistula,  focusing mainly on prevention and early detection and treatment of cases.
---------------
Interview with Dr. Mayson Ahmed,  fistula surgeon at Abu fistula referral center in Khartoum
What are the main causes of fistula, and what makes it prevalent in Sudan?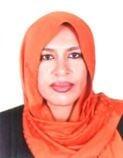 The occurrence of obstetric fistula among Sudanese women and girls mostly occurs because of obstructed labor. Yet, the most important contributing factor to the development of fistula is the young age of a woman at the first birth.  Evidence shows that 38% of women between 20-49 years in Sudan were first married before the age of 18. 
Poverty, illiteracy, lack of knowledge about reproductive health, including family planning, the low socio-economic status of women, and harmful traditional practices including female genital mutilation are among the underlying social factors that play a role in the incidence of fistula.
The inadequacy of the health system, the shortage of skilled medical personnel and health structures, deficient infrastructure and low coverage of emergency obstetric and neonatal care services are all factors that contribute to the continuance and the increase in the prevalence of fistula.