CAIRO, Egypt – "Shake me from my sleep, whisper in my ear, tell me it was just a bad dream," said Huda,* 22, explaining how it felt to become a refugee three years ago.
Back home in Damascus, Syria, Huda had been a sophomore studying nutrition. She was at the top of her class and a candidate to study in the United Kingdom. But as the conflict escalated, daily life grew increasingly dangerous.
"We were severely threatened," she said, referring to herself and her twin sister. "Our neighbors were killed and assaulted by gang members, so we had to be confined in the house most of the time. Eventually we had to leave our home. The decision was not easy, but we just had to."
She and her sister became two of almost 4 million refugees who have fled the Syrian crisis since it began four years ago. Some 7.6 million others are internally displaced within Syria – the largest displacement crisis in the world.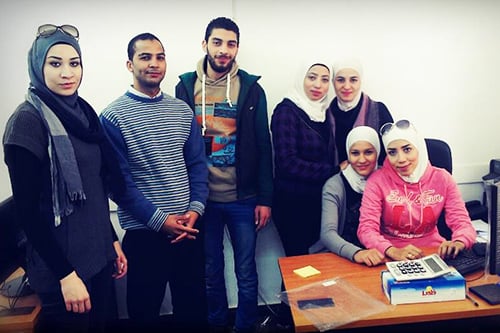 Huda and other Syrian refugees at a UNFPA-supported safe space in Alexandria. Photo courtesy of Huda.
Starting over
The women traveled to Alexandria, Egypt, hoping to rebuild their lives. According to estimates by the Government of Egypt, by early 2015, more than 250,000 Syrians had fled to Egypt. Of these, more than 130,000 were registered with the UN Refugee Agency, over half of them women.
The transition is difficult, with many Syrian refugees struggling to support themselves. Some have found themselves vulnerable to exploitation.
"It was impossible to continue my education, and I was in desperate need to work and support myself," Huda said.
She says she accepted many poorly paying jobs, and often worked 12 hours a day, six days a week. "I knew I was being exploited because I was a refugee, but I had no other option," she explained.
When she tried to quit one job, her employer refused to return her passport. She only got the document back when she confronted him.
It was then she decided then she'd had enough.
Safe spaces promote healing, camaraderie
Huda had been spending time at a UNFPA-supported safe space for women. One of several such spaces in Egypt, the facility provides information sessions on health, nutrition and where to find essential services. It also offers a place for Syrian refugee women to meet and share their experiences.
There, Huda and several other young refugee women came up with the idea for Syriana, an initiative to help Syrian women develop their skills and support themselves.
"We wanted to support Syrian women in Egypt," she said. "There are many skillful and innovative Syrian women who just need support and opportunities."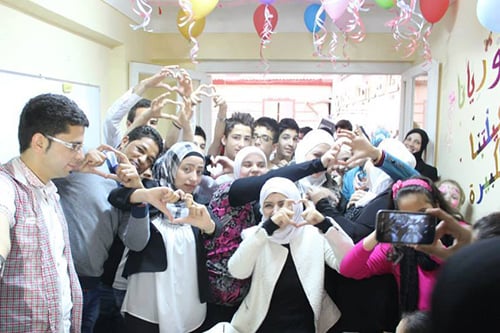 The space offers nutrition and health information and services to Syrian refugees, and is also a place where refugees can share their experiences and help one another. Photo courtesy of Huda.
Huda now also works as a field coordinator for UNFPA, and is helping to establish a new safe space in Alexandria. She hopes it will help other women the same way it helped her. "We really needed places like this, that work on raising awareness and supporting Syrian women in Egypt about issues that matter to them and help their social and economic integration in their new societies," she explained.
In addition to the women-friendly safe spaces, UNFPA has helped to train more than 200 healthcare providers serving Syrian refugees, with a special focus on sensitively managing cases of gender-based violence. And in collaboration with the health ministry and other UN agencies, UNFPA is also supporting 51 public primary health care units providing services to the refugee population.
–Mohamed Megahed
*Name changed