A month after the Beirut Port explosion, essential needs of affected women and girls have changed. Initially, the top priority concerns were safe access to healthcare, food and shelter. Now that many have resettled in their homes or in temporary shelters, their worries have shifted to their economic situations and the challenges in accessing medical services and acquiring medicines and other health supplies, including hygiene products. 
­­An estimated 150,000 women and girls have been displaced as a result of the 4 August explosion, 81,000 of whom are women of reproductive age, including 48,000 adolescents. In order to respond to their critical hygiene needs, UNFPA is working with 12 partners on the ground to distribute prepackaged and ready to use dignity kits. The kits, which include sanitary pads, soap, toothbrushes, toothpaste and towels, are intended to facilitate the mobility of women and girls, to help them maintain their personal hygiene and, most importantly, their dignity. 
"Just like I would want my girls to be fed, I would also want them to have these basic hygienic needs," said Hayat Merhi, a mother of three adolescent girls.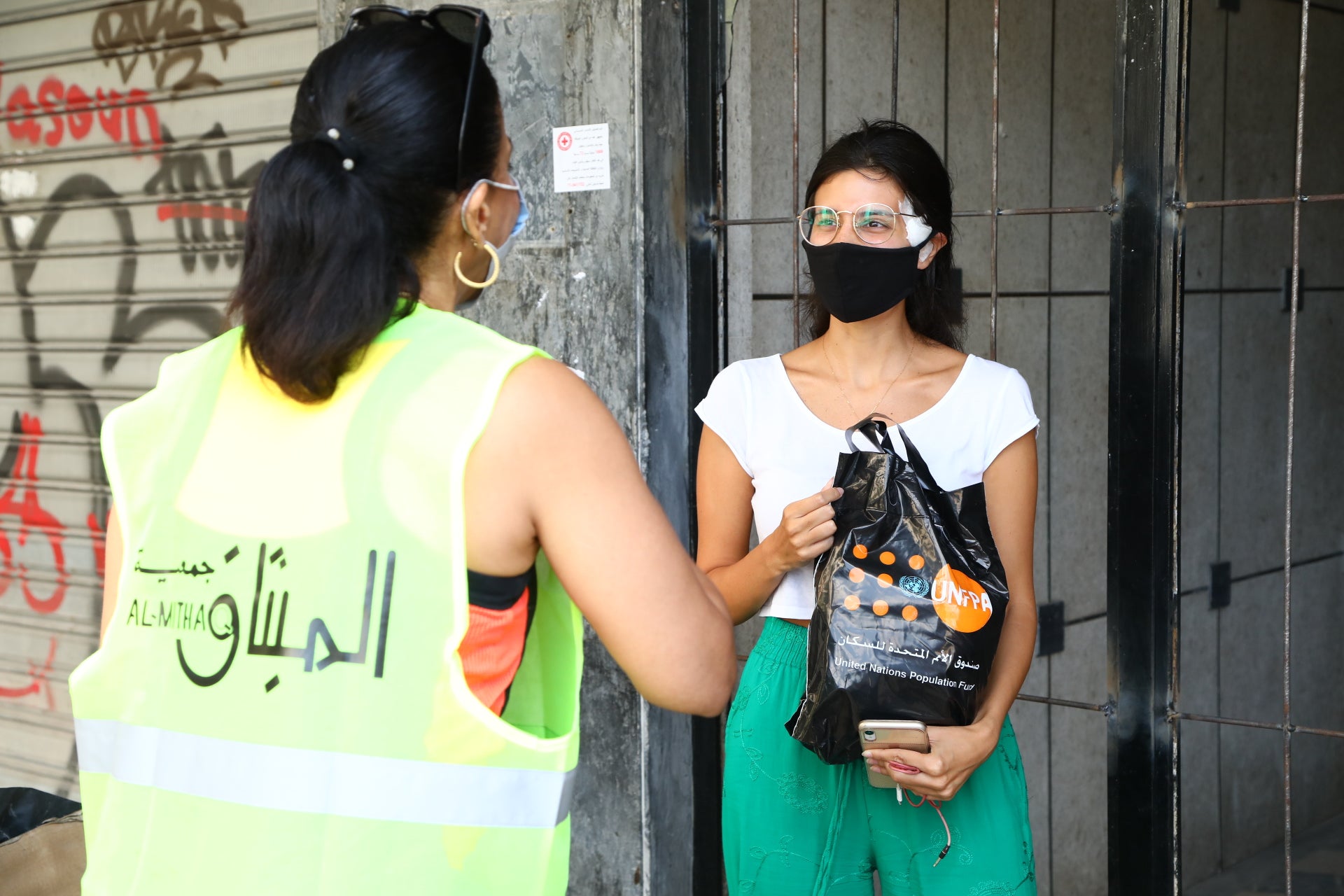 Importance of Sanitary Material
The lack of hygiene items does not solely impact women and girls' dignity, but also their health, mobility, community involvement, family functioning, and security as well as increasing likelihood of period poverty. These supplies restore women's confidence and provide them with the basic products to overcome these issues.
Rima Al Hussayni, director of Al Mithaq Association, has been canvassing impacted areas to distribute the kits door-to-door. "The look on the faces of  young women and girls is so gratifying, no picture can capture that. It's a small caring gift to say 'hamdellah al salameh' [Thank God for your safety]," says Rima. "Bringing light into their broken homes and telling women and girls that their dignity, safety and personal needs matter to the world in these difficult times is the least we can do." 
Many people in Lebanon have lost their jobs in the last few months as a result of the country's unprecedented economic crisis and the COVID-19 pandemic, which has drastically curtailed purchasing capacity across the country. "There was a time when my daughters were using a piece of cloth instead of pads," said Lina Mroueh, a mother of three adolescent girls.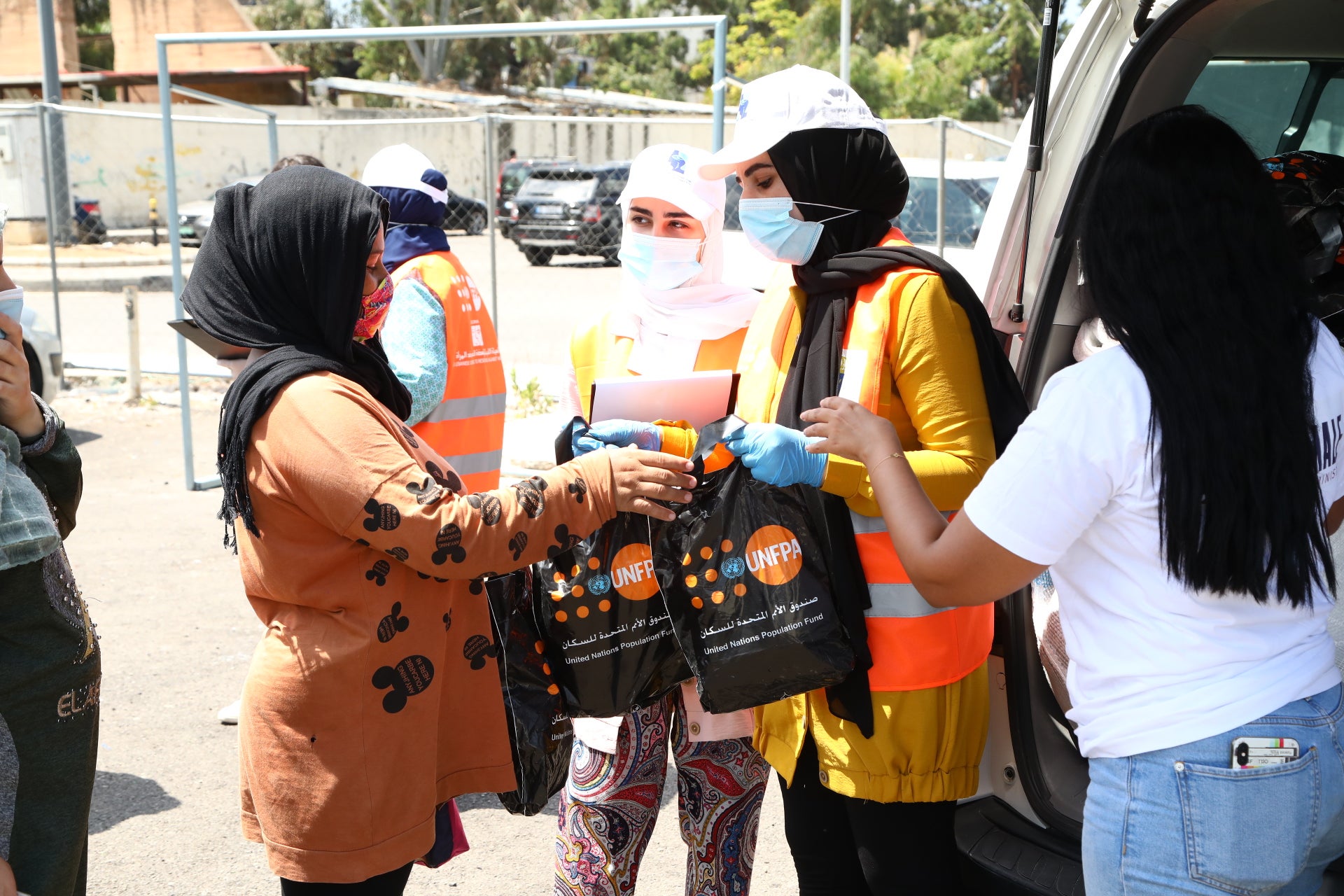 Raise Awareness Through Distribution
The distribution of dignity kits also serves as an important opportunity to listen to women and girls' primary concerns and raise awareness about the importance of sexual and reproductive health and rights, including for women and girls with disabilities.
"These products can be difficult to afford sometimes, and we believe that everyone has the right to feel fresh, clean, and comfortable," said Gabby Fraidy, of The Lebanese Council to Resist Violence Against Woman. "We trained our staff to demonstrate how to use and maintain the items in the kit. We had 11 year old girls who came to us, and our role was to share information about menstruation and explain to them that it is a natural and a biological process that occurs, and that it's a part of growing up," she added.
Ensuring that women and girls with disabilities receive this crucial support is equally as important. We estimate that approximately 12,000 disabled persons have been affected by the blast. Dignity kits are included in the pressing aid services being distributed to women and girls with disabilities by Akkarouna and Al Makassed associations in partnership with UNFPA.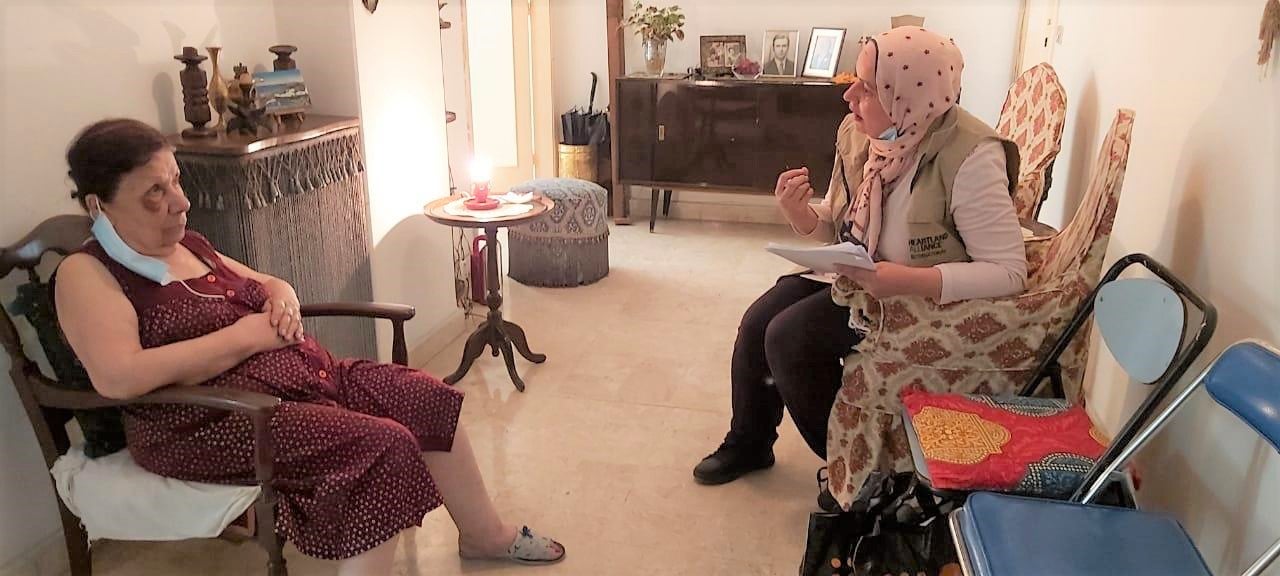 "It is very important to remember that dignity kits are helpful to women and girls, not only for the menstrual hygiene products, soaps and other items, but also as a way to reach women and girls with key messages about sexual and reproductive health and rights, gender-based violence and prevention of sexual exploitation and abuse services and information", said Felicia Jones, UNFPA's humanitarian coordinator. "This becomes even more critical when we are reaching out to the most vulnerable among us, including women and girls living with disabilities who often do not have access to the SRH or GBV services and information that they need to live healthy lives with dignity".
Together, with our partners and communities, we are creating a world with dignity, health and opportunity for all.