MOGADISHU, Somalia – Fatima Abdi Ali, 21, belongs to a very small minority of game-changers: young women activists pushing for progress in Somalia.
Somalia's youth face an uphill struggle. More than 75 per cent of the country's population is under 30 years old, according to the most recent population estimates, yet nearly three decades of conflict have left them with few resources or opportunities.
Women and girls face even dimmer prospects. Gender-based discrimination remains widespread. Women and girls are less educated – with far lower literacy rates than men – and have less access to employment and services. In some areas, communities still frown on girls attending school.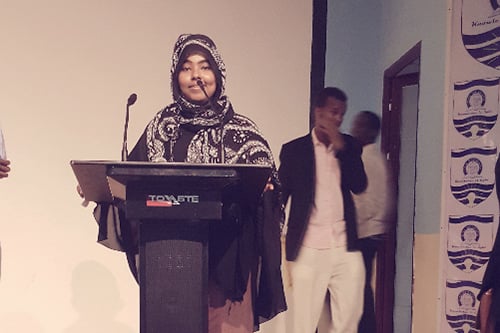 Ms. Abdi Ali has overcome these challenges, garnering the attention and respect of members of government and civil society. Now, she advocates for the empowerment of all young people.
"For the peace, development and future of Somalia, the voices of young people need to be heard and considered," she said.
A leader in the making
Wednesday is International Youth Day, which this year focuses on the civic engagement of young people, like Ms. Abdi Ali, who are making a difference in their communities.
Ms. Abdi Ali became involved in youth issues three years ago when she jointed Y-Peer, a UNFPA-supported youth programme that trains young people to play an active role as community advocates. "I must say, I am now very motivated and confident as a youth leader," she told UNFPA.
She went on to become a member of Somalia's Youth Advisory Panel, which works with the Federal Government of Somalia and the United Nations on issues pertaining to young people – including a youth policy currently under development. "This is such an important role," she said. "I am privileged to be part of the Youth Advisory Panel."
She also encourages other young Somalis to get involved and make their voices heard.
"There is no sense in discussing future development goals without recognising the role that young people can and must play as assets and problem solvers," Ms. Abdi Ali said.
Agents of peace
Young people are among the most vulnerable in times of instability or conflict. They are often targets for abuse or recruitment by armed groups.
"Already, youth are major actors in conflict, constituting the bulk of participants in militias and criminal gangs, with young and adolescent females being exposed to forced and unwanted sexual relationships," said Aljaile Ahmed, a Y-Peer fellow.
But when these vulnerable young people are informed and empowered, they can be powerful agents of change.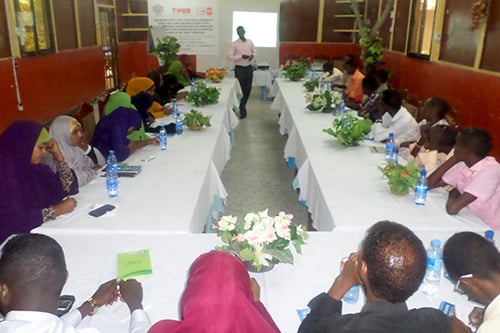 Since 2012, UNFPA has provided technical and financial support for youth programmes in Somalia, including Y-Peer. Young people have received information on reproductive health, conflict resolution, and the prevention of drug abuse and sexually transmitted infections, including HIV. 
"Marginalised young women are also specifically targeted to act as peace champions," Mr. Ahmed said.
"More than 2,000 adolescents and youth have directly been reached and educated," said Mohamed Arshad, Y-Peer focal person in Mogadishu.
"Through the Y-Peer programme we have a good number of girls who are confidently speaking and raising awareness on reproductive health issues, such as family planning , the dangers of female genital mutilation, gender-based violence, HIV/AIDS and STI prevention, and campaigning against child marriages," he added.
–Pilirani Semu-Banda