AMMAN, Jordan – Child marriages appear to be rising among Syrian refugees as families grow increasingly desperate under the grinding four-year-old conflict. Alarming reports show that parents are marrying daughters off to alleviate financial burdens, or in the mistaken belief that a husband will be better equipped to protect them.
But many brave parents are refusing to marry their daughters off, no matter how dire their circumstances. Their stories offer a powerful example, and demonstrate the kinds of support needed to help other families to say no to this dangerous and damaging practice.
"You can't buy my daughter"
Child marriage is a human rights violation, one that threatens girls' health, prospects and even lives. Yet in Lebanon, Jordan and elsewhere refugee families are increasingly resorting to child marriage to cope with insecurity and financial hardship.
UNFPA works with partners to raise awareness of the harms of child marriage, and to help survivors of child marriage receive health and social services and legal assistance. But parents have the most critical role to play.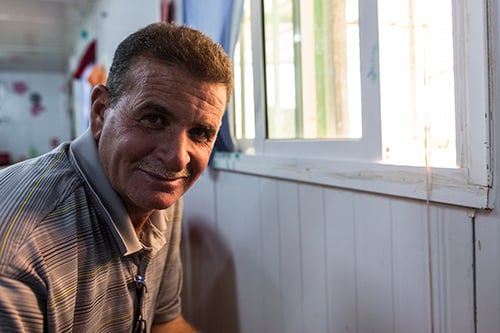 Jannah,* in Jordan, refused to allow this fate for her 14-year-old daughter, Maysa.
Life has been difficult since Janna's family fled Syria. Her husband has been badly affected by the stress of the war; many days, he simply sits under a tree and stares into space. Meanwhile, Jannah and Maysa work from sunrise to sunset on a nearby farm, making barely enough to provide for their family of six. The work is hard, and the chemicals used on the crops blister their skin.
Relatives have advised Jannah to marry Maysa off as soon as possible. It is for her safety, they say. Like many girls her age, Maysa has been the target of unwanted attention from men looking for young brides.
But when a marriage broker offered 140 Jordanian dinars in exchange for marrying Maysa off, Jannah was outraged. "You can't buy my daughter," she shouted. "I will die before I give my daughter away."
She knows Maysa deserves a better life. It is her dream that Maysa go to school and, eventually, choose her own husband. "Maybe love was not an option for my generation, but I want her to be able to choose marriage for the right reasons," she said.
Education offers an alternative
For many parents like Jannah, education is the most obvious path away from the hardships of early marriage.
Khalil, whose family lives in the Zaatari refugee camp in Jordan, says marriage would rush his daughters into the responsibilities of adulthood. Instead, he wants them to learn. Educated girls are more empowered, have better job prospects, and their future children are healthier.
"They are too young," he said of his daughters. "I do not want them to take on such a responsibility too soon. Here in the camp, they have the opportunity to go to school, and I want them to use it."
"We have no women for marriage"
Elsewhere, 15-year-old Zeinab also wants to continue her education. "I like going to the UNFPA-supported women's centre to learn. I'm taking English lessons there," she said.
She, too, has been the focus of intense unwanted attention. Many men have come to her family's small apartment with marriage proposals, but her mother, Jihan, is adamant. "We have no women for marriage," she tells them.
Though they struggles to make ends meet, child marriage is simply not an option, Jihan said. She has been going with her daughter to the women's centre. In addition to learning English and receiving basic services, they also learned "how dangerous it can be to marry young," Zeinab said.
Jihan knows that education – not marriage – offers the protection her family needs. "If I had been educated," she said, "I might be able to provide for my family in this situation."
And, importantly, Zeinab knows what's right for her. "I don't want to marry yet," she said.
*All names changed for privacy. See more Syrian refugee stories in UNFPA's report Breaking the Silence.