A decade of political unrest, wars, civil wars, and now a pandemic created a traumatizing reality for millions in the Arab region,currently home to some of the worst humanitarian crises in history. This past decade took a major toll on the region and its most valuable resource, its young population. 
The Problems are many
The crippling reality forced member states to face unprecedented challenges hoping to meet the needs of many simultaneously. There is not an age group, gender, or ethnicity that is not facing its own problems. The desire to reach solutions is reflected in the United Nations ambitious sustainable development goals (SDG) and its vision for 2030.
This vision includes 17 goals and each has its own set of targets. These goals are the blueprint to achieve a better and more sustainable future for all: They address the global challenges we face, including poverty, inequality, climate change, environmental degradation, peace and justice.
In line with the 2030 vision, UNFPA, the United Nations sexual and reproductive health agency, is on a  mission to deliver a world where every pregnancy is wanted, every childbirth is safe and every young person's potential is fulfilled. That mission is emphasised in UNFPA's three transformative results and the Commitments made at the International Conference for Population and Development in Nairobi last year.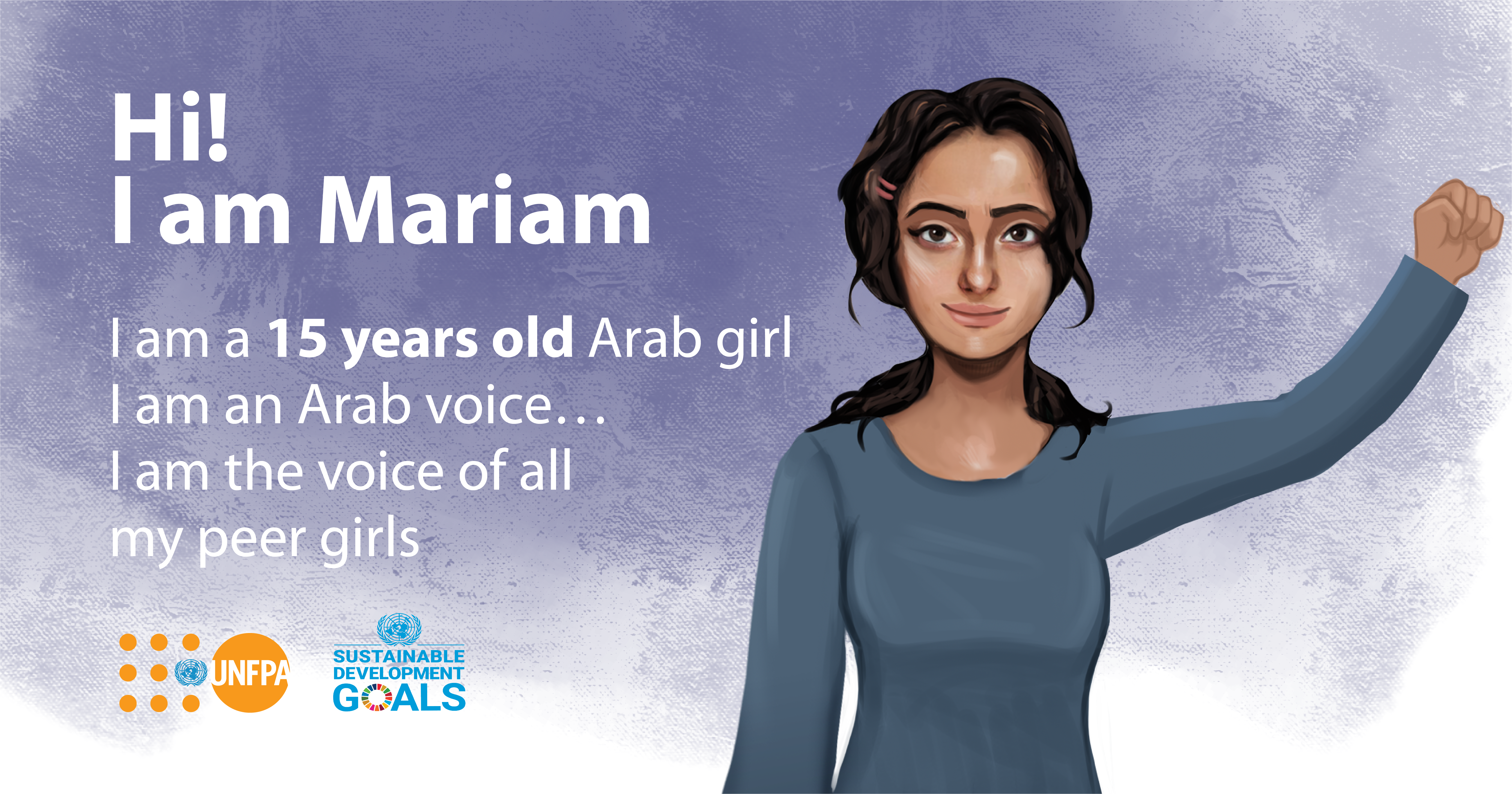 We are here to help!
As part of our continuous efforts to provide member states with uplifting support, we are zeroing in on adolescent girls and their issues.
While there are no universally accepted definitions of adolescence and youth, the United Nations understands adolescents to include persons aged 10-19 years and youth as those between 15- 24 years.
Currently the Arab states region is home to 450 million, and adolescent girls make 8.9% of the collective population (40 million). Due to cultural and traditional norms and practices, 55% of girls are subjected to Female Genital Mutilation (FGM), one out of five girls is married before the age of 18, and 19.5%  of girls don't finish their secondary education.
This is a reality we are working to change. We are working to end all harmful practices including FGM and child marriage, all forms of gender based violence. We are working to empower.
A Hero for Change!
"Changing social norms is about real-life situations and experiences, and it also involves theoretical concepts with which some people may not be familiar. These concepts are not difficult but are not yet commonly used to design programmes for addressing social and public health issues."
To bring on the changes we hope to see in our realities, we are mainstreaming adolescent issues and amplifying the scope of its work, to include younger audiences and the general public through the newest member of our family, Mariam.
Mariam is our regional digital ambassador; she is a 15 years old Arab girl who advocates for change to improve the realities for many adolescents. Mariam is here to highlight the struggles, problems, challenges, opportunities, and victories of adolescents and youth within the region. 
Mariam will introduce the UNFPA mandate and its related ideas, concepts, and references in a safe, educational, familiar, and human rights-based approach to  the adolescents and youth of the region.
We hope the introduction of such concepts can cause a shift in the numbers, empowering girls and women and ending harmful practices that threaten their lives.