Despite her best efforts to build a life out of the ruin, Reem, 26, is grappling with an unshakable anxiety about her future as a refugee.
She tried to do everything right. She waited and did not let the war force her into child marriage like nearly a third of the Syrian refugee girls. After her second child, she started using family planning services to space her births and plan her life responsibly. Upon arriving at Zaatari refugee camp in Jordan, she enlisted in vocational training programmes in a UNFPA safe space for women and girls. It was an attempt to get some sort of education after being forced to leave school in Syria. But all her planning does not help with the fear and the uncertainty.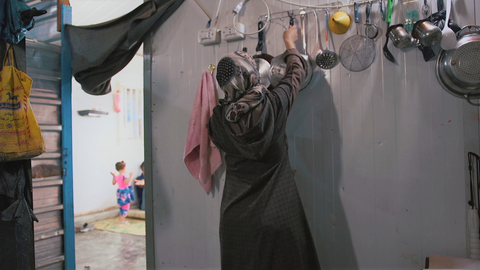 "I fear for my family in Syria, that I'll lose them in a blink of an eye," Reem said, "I hope Syria is safe again so we can return but I'm afraid of being displaced again. I'm afraid of being forced to go back and then have no income to provide for my children."
Being displaced makes it impossible to feel settled. Even the simple dream of decorating and properly furnishing the caravan where she lives is not realistic, Reem said wistfully, because she doesn't know if she will be forced to leave it. Ever since she had to flee Daraa seven years ago, that sense of urgency still follows her from one day to the next.
"It started as a joke as we watched the camps in Jordan on television. Then, it turned into our reality," Reem recalled, "They said it was going to be difficult to carry all our things to the border so I only took a change of clothing. I had a photo album; it was my childhood. I regret leaving it behind."
It's safer in Zaatari, Reem says recalling how scary things had become in Syria before she escaped. There was a checkpoint in front of her family house and so, her parents "shut doors and windows so nobody can see us." Her family left with her uncle's family. A day after they arrived in Jordan, they learnt that her uncle's house was shelled. Her repeated references to "things they do to girls" is indicative of the fear of sexual violence which usually rises dramatically in times of war and humanitarian disasters. This fear was the main reason why Reem was forced to leave school in Syria. Her secondary school was in a nearby village and, along with her sister, they had to take a bus to reach it.
"We heard villages and buses were attacked and that girls were abducted," Reem said.
But displacement makes everything more difficult for women and girls. Girls are more likely to be forced out of school than boys; they are also 90 per cent more likely to be out of schools than girls who live in conflict-free countries. Women are more likely to die in childbirth in humanitarian disasters.
Reem was able to deliver her children safely at UNFPA's maternity clinic where she also receives family planning services. Today, Reem looks at her life with mixed feelings.
"My aspirations were bigger than this. I had hoped to finish my education. But halfway everything changed and then I married. I didn't think this would happen to me," Reem said, "I just want to see my children grow up and to one day be reunited with the rest of my family."
Since the opening of UNFPA's delivery ward in Zaatari refugee camp in 2013, there have been 10,000 deliveries in the camp without a single incident of maternal death.
*Name was changed to protect the interviewee's identity upon her request