Dalal was a child when the war broke out in Syria. Now, at 20 years old, she's internally displaced, a widow, and the sole provider for her only son. 
"I worry all the time about how I will raise him, and whether I'll be able to give him what he deserves," Dalal said, "Fear lives on in our hearts and we don't feel settled." 
As the Syrian crisis enters its ninth year, women like Dalal are trying to come to grips with their new roles as sole breadwinners. One in three Syrian households are headed by women at a time when opportunities are scarce and the risk of exploitation and poverty are higher than ever. To make things worse, the war had forced women like Dalal to leave school which further complicates their ability to find work.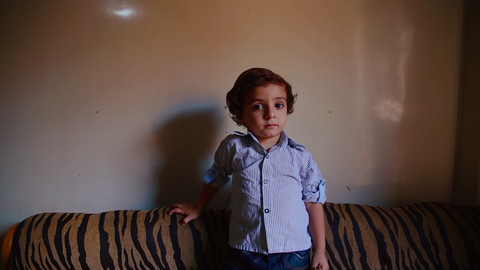 As a child, Dalal had hoped to finish her education and become a doctor. But, because of the war, she was married at 16. At the time, she didn't think she was too young and she loved her husband dearly. But looking back, she says she would have chosen to finish her education and not marry. 
"He was loving, understanding and kind- an irreplaceable man," Dalal said of her late husband, "But I lost my husband and my son was orphaned and now I have to play both roles: a mother and a father."
Initially, she had no time to deal with her grief. Her hometown, Hamouriyah, witnessed heavy fighting and she had to flee.
"Our last day in Hamouriyah felt like it was going to be the day we all die. There was no way out. People fled their homes running, some without being fully dressed and some never had the time to take a single thing from their houses," Dalal said.
Being displaced, Dalal explained, was "like watching our future wasting away before our eyes, bit by bit." Seven years of displacement felt like years she lost in a blink of an eye.
Upon resettling in East Ghouta, Dalal finally realized her situation and grief struck hard. She began isolating herself and started to slip into depression. She looked around and women who shared her plight were going through a similar experience.
"I know people who just locked themselves in a room and wouldn't talk to anyone. They cried all day long and couldn't overcome what happened to them," Dalal explained.
While receiving reproductive health services from a safe space for women and girls supported by UNFPA, the United Nations sexual and reproductive health agency, Dalal learnt that psychological support is also available.  She had the strength to ask for help which finally enabled her to deal with her new situation. She soon found a job.
"Ms. Rasha helped me a lot. She pulled me out of depression and convinced me to get a job to support my son," Dalal said about the counselor who worked with her in the UNFPA safe space, "Most people in Syria need psychological support, men and women alike."
UNFPA in Syria:
In 2018, UNFPA supported 47 safe spaces for women and girls and 17 youth centres in Syria. 1,646,656 people were reached with reproductive health services, and 445,752 survivors of gender-based violence received protection and support services.