UNFPA: Delivering a world where every pregnancy is wanted,
every childbirth is safe and every young person's potential fulfilled.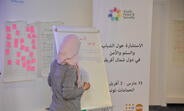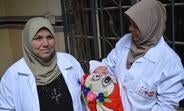 4 April 2017
The US has withdrawn $32.5m (£26m) in funding for the United Nations Population Fund (UNFPA), an agency that promotes family planning in more than 150 countries.
In Syria, doctors and midwives working in humanitarian emergencies
Reproductive health during emergencies: Stories from Daraa governorate in Syria
في سوريا، الأطباء والقابلات العاملون في الأزمات الإنسانية
On Valentine's Day, help them, say #IDONT!
في عيد الحب هذا العام، قولوا #لاأوافق