The Arab Youth Forum recently organized by UNFPA, the UN sexual and reproductive health agency, brought together over 200 young participants from across the region to exchange experiences and find inspiration in each other's innovative solutions to their communities' most pressing problems.
In Egypt, Kareem Hassan, 30, started Benaa Foundation three years ago to provide knowledge and training that can help design youth-led development programmes, in addition to implementing Benaa's own development projects in rural Egypt.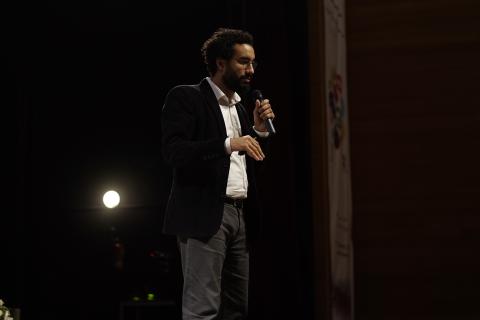 "Today, Benaa has projects in ten Egyptian villages serving over a hundred thousand people," Hassan said in an interview with UNFPA, "The projects focus on water and sanitation, schools' development, rural development, green and sustainable architecture, organic agriculture and the creation of public spaces for communities and children."
To this day, Benaa has reached over five hundred thousand Arab internet users with open-source knowledge products including translated books. Benaa has also trained over three thousand young women and men in Egypt on how to design and implement their own development programmes.
"This is the thing we are proudest of. Each of the young people we worked with, everyone who attended a training, had an impact one way or the other. We believe that our most positive impact is turning this young energy into innovation and impact," Hassan added.
According to Hassan, young people who received training from Benaa were responsible for the creation of four youth-led development organizations affiliated with Benaa, and dozens of community-based start-ups.
During the Arab Youth Forum, Hassan presented the idea behind Benaa and the results the foundation achieved to the young participants who found the on-ground approach inspiring. Sitting at the same panel was Vera el-Mawla, the co-founder of Peace of Art, a Lebanese youth-led academy that uses art as a peacebuilding tactic in the area of North Bekaa.
North Bekaa shares a border with Syria and has been home to thousands of refugees fleeing the conflict. According to el-Mawla, sectarian feelings make it difficult for young people from different communities residing in the Bekaa to interact.
"We wanted to create a space for them to meet. We thought that the most suitable way to achieve this was to use the arts. So, we started offering classes in music, drawing, photography and film making and now we are venturing into new fields like robotics," el-Mawla said.
Today, Peace of Art offers twenty classes that serve three hundred students with plans to expand further. Arts classes, el-Mawala said, were especially significant for young girls who are generally expected to stay indoors in North Bekaa. The academy provided them with a chance to leave the house, join group activities and find platforms to express themselves.
Reflecting on the effectiveness of using arts in peacebuilding, el-Mawla recalled an incident when a group activity brought young men together from two districts with a long history of sectarian tension and animosity.
"It was awkward at first but they eventually worked together and produced a series of short films and photos," el-Mawla said, "We often use such opportunities to introduce peaceful dialogue and conflict resolutions workshops."
Youth are the starting point of any real change, el-Mawla asserted, which is why it is dangerous to continue to sideline their voices.
"When youth are the future and they can't be part of the decision making process, what does this tell you about where the region is heading?" asked el-Mawla, "This is why we thought it was important to participate in the Arab Youth Forum. We wanted to contribute to a future that looks different from how things are now."